Challenge Beerbabe goes Epic
Posted on
With my 60th birthday on the near horizon, I started to consider how to mark the occasion. With the announcement of the UCI World Gravel championships, along with moving into a new age category (F60), I considered whether to try to qualify. I'm pretty new to this gravel thing although I have been mountain biking for a number of years but was I dreaming too big. There was only one way to find out and so we booked a trip to the Ardennes to have a go at Houffa Gravel 2023.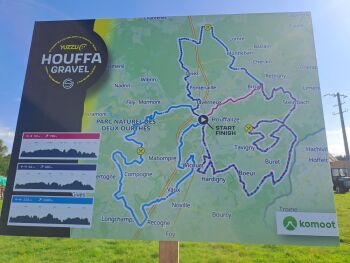 We'd visited the area back in 2019 and took part in the Chouffe Raid. The weather conditions leading up to that event were not ideal, neither was our decision to use the fat bikes. We didn't complete the required distance but vowed we would return to lay the demons to rest. Houffa Gravel promised some of the same type of trails but maybe not quite so extreme.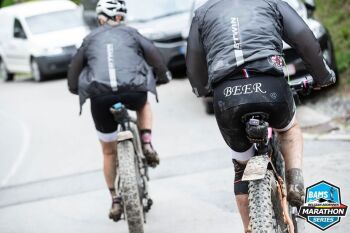 We prepped ourselves as best as we could & I decided to go along the hydration pack route in order to hydrate more easily. I also wanted to keep the bike as light as possible in the event of having to hike-a-bike.
I made myself a new style stem pack so that my phone (and a few snacks) would always be to hand (the Houufa Pack is now available to buy via this link - opens a new window).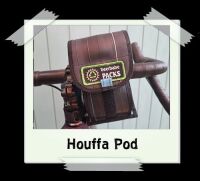 My newly acquired CHPT3 gravel shorts (with not-so-hidden thigh pockets) allowed me to stash gels for ease of access on-the-fly.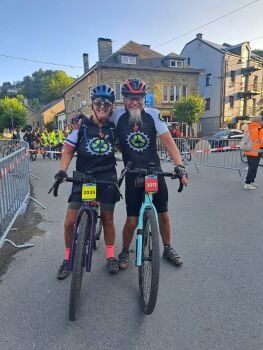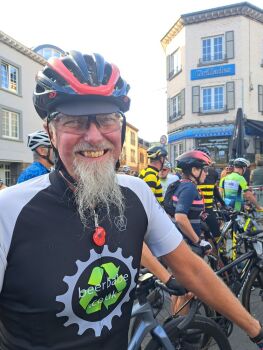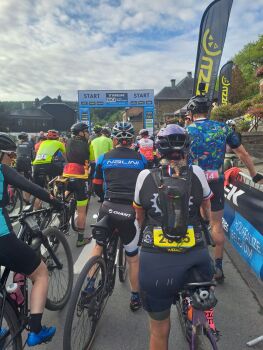 And so we found ourselves numbered up and in our start pen on the morning of the race, nervous but ready to go. A group of local tractors were on hand to cheer us on our way. They had obviously heard about #TractorTuesday which is popular in the gravel community!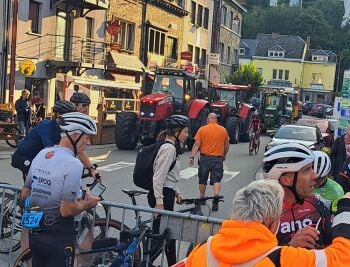 3, 2, 1 and we were off.
The starting climb out of Houffalize is not for the feint hearted, with gradients of up to 20%. Each corner rewarded with the view of another wall to go up. I didn't want to push myself too hard and I was determined not to walk, so I selected my lowest gear and just kept turning the cranks. There were lots of spectators cheering us on, for which I was thankful. The climb eased and all too soon we were heading to the 1st gravel section. A handful of riders had opted to push their bikes along the edge but I had no fear of the puddles & sailed through.
Roy and I had decided to do our own races but I was really happy when I heard him behind me. We had a chat as we rode along together. Shortly afterwards, I realised that I was on my own and pushed on. I am more of a diesel than a hotrod &I just kept going making sure that I fuelled & drank regularly.
It was definitely a technical course which suited me more than if I had come from a road biking background. There were steep climbs and rocky/rooty descents. I only had to push a couple of times. Once on a switchback track that just went on and on, the other when I slipped off the line as I got distracted.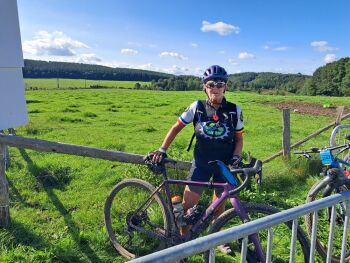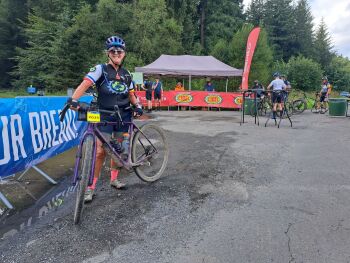 It was quite a lonely race for me to be honest but I did see some cows & sheep to say hello to. We also went through a tractor expo, at which I had to resist stopping to take photos.
I was concentrating on the GPS track and didn't really know how far I had ridden or even the time of day. At the 2nd feed zone, I found out that I had 13km left to do which raised my spirits somewhat. A dropdown into a river crossing with a steep pitch back out and I entered Mont, where we were staying. Having ridden the race route into Houffalize a couple of times, I raced on knowing that I was almost done. Crossing the line was a bit of an anti-climax tbh. The official photographer was there to capture the feat but it was nothing like the 24h mtb finishes I have done on the past. A finisher's bag & a bottle of 8.5% warm beer!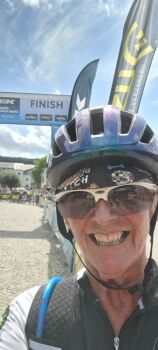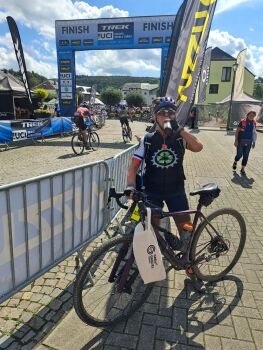 I hung around the finish area waiting for Roy to arrive. I had no idea how long he would be and, stupidly left to check if I had qualified rather than capturing his moment of achievement. I hadn't qualified & I missed getting the photo of him. If I could wind the clock back, I would be there for him cheering for all I was worth.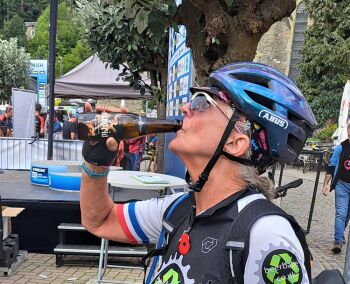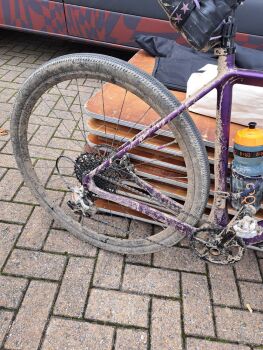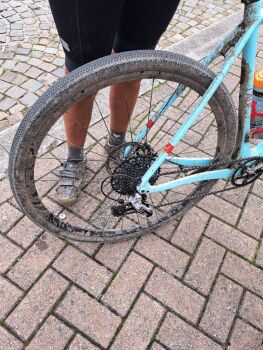 It had definitely been a challenge and it had been epic. Will I do it again – I hope so.
But neither of us really found any 'spirit of gravel'. We have done other events where it was present in bucket loads. Maybe everyone was just too focussed on the racing aspect.
I ended up 7/7 in the F55 class but had I been 42 days older, I would have been 2nd in the F60 class (and beaten the British champion in the process). I'll take that as a win!
My Strava stats show 68km with 1300m climbing and I also became the 'Local Legend' on a segment heading into Houffalize, so I get to hang around in spirit until it gets taken off me.
In terms of the other numbers, I was just under 22 minutes faster than Roy at the finish. Before the start, he was convinced that I would finish around 1 hour ahead of him. In reality, he took 6 and 21 minutes longer than me over sectors 1 & 2 respectively. His sector 3 time into the finish was 7 minutes faster than mine so he had definitely fought his demons early in the race and defeated them.
And I didn't even get to see Wout van Aert. His podium was taking place at around the time I was at the 2nd feed stop. I put that right when we were in Oudenaarde later on in the holiday!