Houffa Pod
---
Houffa Pod
£32.00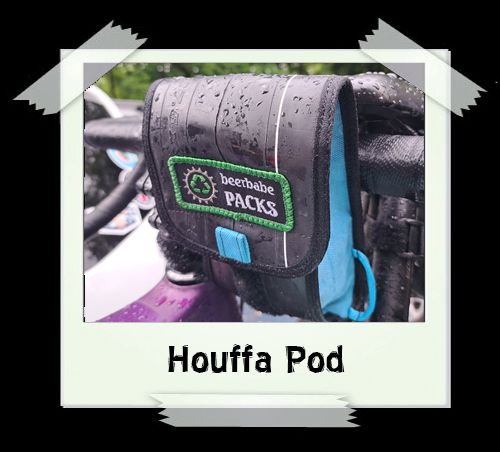 The Houffa Pod is ideal for holding a mobile phone along with numerous other items such as a wallet and snacks. The name comes from it's testing ground at Houffa Gravel 2023. I wanted a flat-backed pack to have my phone readily available and close to my GPS unit. It was my own 'challenge Beerbabe'.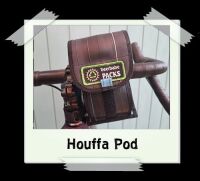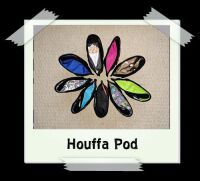 It is constructed from used bicycle inner tube with the side inserts made from 600D waterproof canvas*. The outer cover is lined with used banner material which adds extra support. The colour of side panels can be selected from the drop-down box below.
* The Donut print fabric is 225D so the side insert is additionally lined with contrasting ripstop fabric.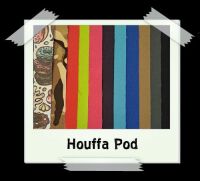 The Velcro closure allows for single-handed opening of the pack. There is also a matching tab to help open the pack. The pack is designed to completely encase & protect what is put inside.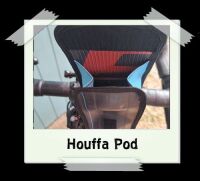 Canvas loops on the back allow for easy attachment to the handlebars. One of the Velcro straps can be replaced by a handlebar pack strap to maximise the space available on the handlebar.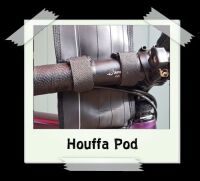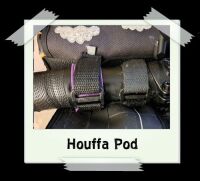 The paracord loops on each side of the pack allow it to be anchored to either side of the headset. A Velcro strap is supplied but a top tube feed pack/headset strap can also be used.
It can also be used for a 500mL water bottle, although the pack will not fully close.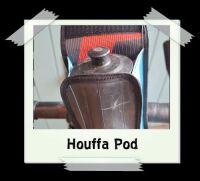 It's waterproofness was tested during torrential rain storms while on the car bike rack and at bars. The contents remained dry - including the bag of assorted sweets.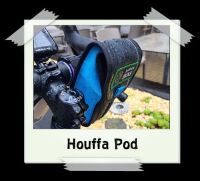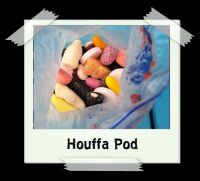 Dimensions: 15cm (min) - 21cm (max) h x 10cm w x 7cm d
Weight: 90g