Pack for Jones Bar
---
Pack for Jones Bar
£48.00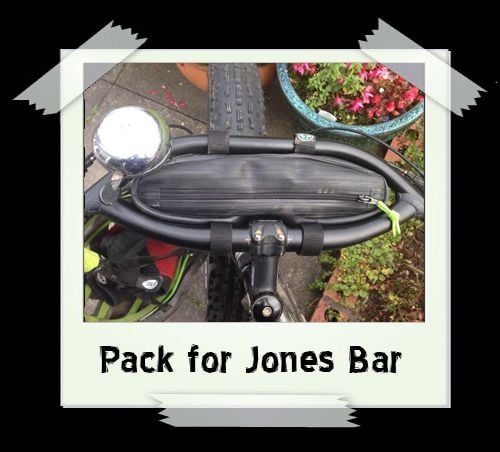 A pack specifically designed to fit inside the Jones Bar loop and allow all hand positions. It is made from recycled bicycle inner tubes and lined with used brewery malt sack.
This is not a Jones product.
Webbing strap stitched to pack for added support
Velcro attached to the bar
Waterproof top-opening zip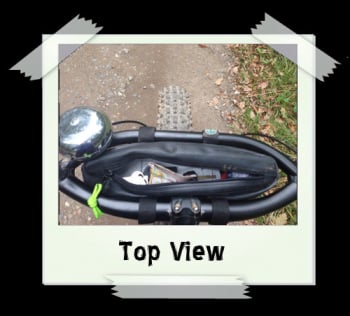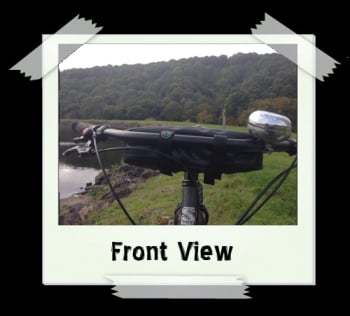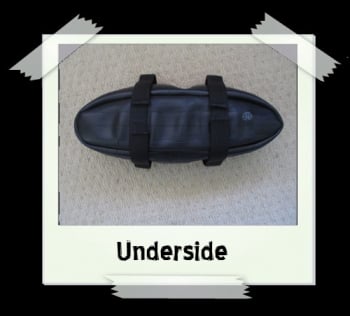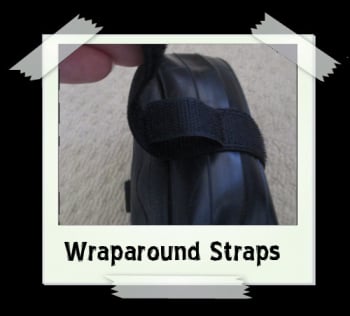 Dimensions:
30cm W x 10cm D
The depth of the pack can be adjusted according to the space available. The pack shown in the photos is 7cm.
Please note that this is a made-to-order item. If the current lead time is greater than a few days, I will advise you once I receive the order.
Don't just take my word for it - here is what my reviewer (Callum) had to say:
"First impressions Opened the parcel and was pleasantly surprised with the bag. The shape gives a good structure to the bag so it isn't flimsy and doesn't look weak. The Velcro attachments look well placed as to not interfere with hand positions should you wish to ride with hands on the loop of the bars. They also looked well placed to give sufficient stability so the pack doesn't move around when riding. The additional lace bungee on the zip looks ideal for when fingers get cold and for speed of entry should you carry a camera and have a few seconds to get it out and take the shot you want.
The depth was ideal, not too deep as to interfere with steering but not too shallow to render it pointless for anything more than a set of keys. So my initial impressions were really positive, next step, filling it with my bits and bobs attaching it and heading out.
So I have been out, the bag doesn't unbalance the ride, it isn't cumbersome and it fits enough bits and bobs.
I had it on the Jones on my moonlander. I like the positions of the Velcro fastenings and also the length of them, really helps keep the pack stable. In the pack I had keys, wallet, phone and a neck buff and head buff. (Wasn't sure how cold it was going to be) plenty of space for a camera, (I tend to use my phone) also room for gels, nibbles should you need them.
With front light batteries being so small these days you can easily fit one in here with the rest of the stuff mentioned above. As usual I took photos whilst out and it was nice to just find the phone with ease and quickly as some pictures involved wildlife, they have no thought for us photographers and keep moving around so getting to my phone quickly was key.
Overall very happy with what you have made and would certainly recommend to other Jones users, I have no idea if there are any alternatives on the market though. This just works and works well It is certainly much better than the top tube bag thing I used to use, that was awful and just kept moving around all over the place.
Couple of comments 1) could you offer various depth options for those who take the kitchen sink? 2) can't comment as to waterproofness as didn't ride it in the wet."
Watch this space for more updates.